With all the machine shops around,
why OQM?  Four words:
Ambition
Obsession
Teamwork
Innovation
We are a CNC machine shop that uses
state-of-the-art tooling, fixturing and CNC
programming to meet our customers' needs.
CLICK HERE
TO VIEW
COURTNEY'S
STORY
Founder and CEO, Courtney Tate, is an experienced CNC machinist and manufacturing engineer. He has over 20+ years of experience in the industry which is contributed by his hands-on experience from veterans during his journey. Applying the knowledge, he has gained throughout the years, he has developed his own style and methods of effective CNC machining and fabrications. One example, he has created a method to machine components within 2 to 3 set-up steps rather than 4 – 6. His methods and the company's culture encourage new talent to explore their abilities and create a spirit of service that benefits the customers. new talent to explore their abilities and create a spirit of service that benefits the customers.
Besides modernized methods and on-time delivery, OQM also offers:
Pickup & Delivery:
Local pick up and delivery services are available to free in most cases. Not local? We can provide an estimate freight cost along with each quote.​
Price:
Fortunately, OQM has low overhead expenses which allows us to pass on those savings to our customers.
MBE (Minority Business Enterprise):
OQM is a minority owned business that is MBE certified.  Based on this, partnering with us provides our customers with tremendous tax benefits.
Ontime Quality Machining is dedicated to developing trusting, profitable relationships by seeking perfection in machining, engineering, and manufacturing while reducing cost through innovative production methods resulting in unmatched quality.
Ambition
Become unrivaled leaders in all aspects of American manufacturing.
Obsession for Perfection
Achieve six-sigma in business, manufacturing, and customer service.
Teamwork
Cooperatively utilize talents, education, and experience to accomplish our goals.
Innovation
Create value through advanced technologies and ingenious solutions.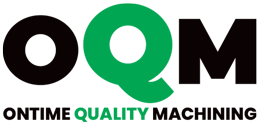 We love creating things, from precision products for any industry, along with lasting partnerships with our customers.